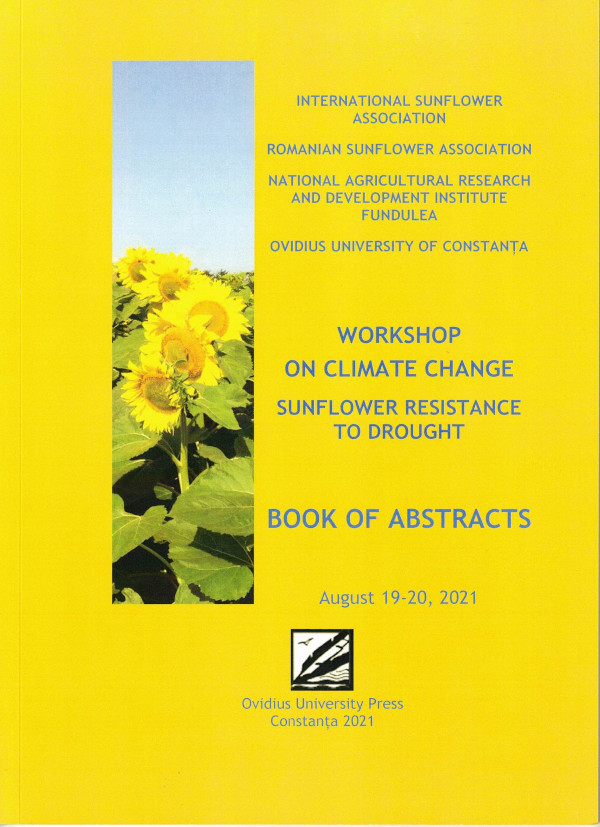 Titlu: Workshop on climate change. Sunflower resistance to drought. Book of abstracts – Constanța, România, August 19-20, 2021
An apariție: 2021
ISBN: 978-606-060-037-4
Domeniu: Agricultură
Detalii:
 Principalul mesaj al lucrării este reprezentat de faptul că schimbările climatice ce caracterizează ultimii ani (încălzirea globală, perturbarea regimului precipitaţiilor, creşterea variabilităţii climatice) influențează creșterea și dezvoltarea  plantelor de floarea-soarelui, capacitatea acestora de a utiliza resursele disponibile și de a face față factorilor de mediu nefavorabili, atât  biotici cât și abiotici, fiind afectată capacitatea de producție a plantelor și calitatea recoltei.
        Scopul lucrării îl reprezintă înțelegerea mecanismelor pentru asigurarea durabilităţii producției la floarea-soarelui,  în contextul schimbărilor climatice.
     Lucrarea conţine rezumatul lucrărilor prezentate la manifestarea științifică Workshop on climate change – Sunflower resistance to drought, desfășurată la Universitatea Ovidius din Constanța, în perioada 19-20 august 2021, manifestare realizată sub egida unor prestigioase instituții, care desfășoară activități și are preocupări prin intermediul specialiștilor ce lucrează în cadrul acestora în cultura florii-soarelui, și anume: International Sunflower Association, Romanian Sunflower Association, National Agricultural Research and Development Institute Fundulea, Ovidius University of Constanța.