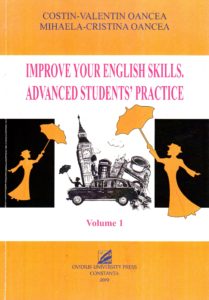 Autori: Oancea Costin-Valentin, Oancea Mihaela-Cristina
Titlu: Improve your English skills. Advanced students' practice
An apariție: 2019
ISBN 978-973-614-994-8
Domeniu: Filologie
Detalii:
Lucrarea, având ca autori pe Costin-Valentin Oancea şi Mihaela-Cristina Oancea, se adresează, în primul rând, studenților filologi de la specializările limba și literatură engleză și studii americane. Ȋn plus, lucrarea reprezintă un instrument de lucru de referință pentru toți cei interesați de predarea și învățarea limbii engleze.  Scopul pe care și-l propun cei doi autori este de a ajuta studenţii să îşi îmbunătăţească nivelul de cunoştinţe de limba engleză (citire, scriere, vorbire și folosire uzuală a limbii).
Cartea este structurată în șase capitole tematice variate (Travel and Travellers, Nature and the Environment, Science and Technology, History and Mythology, Language and Society, Crime and the Law) care cuprind explicaţii teoretice însoţite de exerciţii, urmate de răspunsuri. Fiecare  capitol  este împărţit pe deprinderi sau competenţe care pot fi dezvoltate, cu precădere în timpul orelor de limba engleză (înțelegerea textului, gramatică, vocabular, folosirea limbii, scriere, vorbire). Exerciţiile sunt variate (multiple choice, gap filling, rephrasing, open cloze, word formation, error correction etc.) iar cheia exercițiilor permite  și studiul individual.
Cartea Improve Your English Skills. Advanced Students' Practice reprezintă o inedită și necesară contribuție în actualul context  al publicațiilor de acest tip din România.